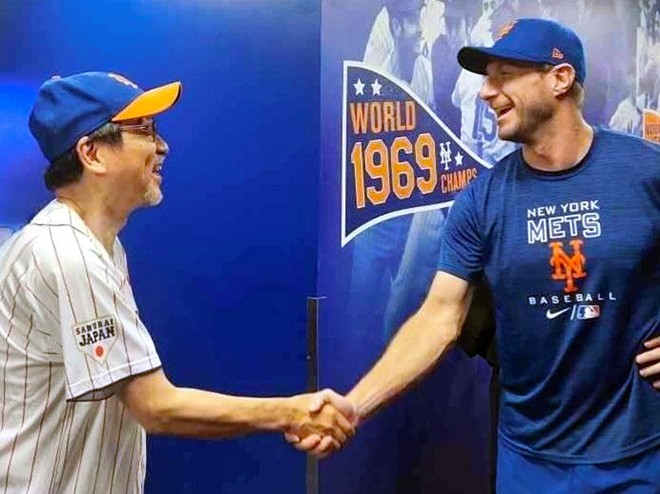 NEW YORK–More than three months late–and without Max Scherzer blocking his way – Japanese Consul General Mikio Mori finally threw the ceremonial first pitch at Citi Field here on August 25.
The ceremony preceding the New York Mets' home game against the Colorado Rockies was part of a Japan-US Baseball History Night event that celebrated the 150th anniversary of baseball's arrival in Japan from the United States.
Mori was originally supposed to throw the first pitch on May 13 when the Mets hosted Japanese Heritage Night at the stadium.
But Mets starting pitcher Scherzer was already warming up on the mound when Mori was introduced.
Due to miscommunication, Scherzer did not yield the mound to Mori, who waited awkwardly on the side before being called off the field.
Team officials later visited the Japanese Consulate General in New York and apologized for the incident.
The two sides then agreed to hold an event to mark the 150th anniversary and give Mori another chance to test his throwing arm.
Before the game, a video showcasing the history of baseball in both countries was shown on a giant screen at the stadium.
Mori then stepped in and threw a pitch to Masato Yoshii, a former Japanese pro baseball star, who pitched for the Mets in 1998 and 1999.
Before the game, Mori met with Scherzer and got the ace pitcher's autograph on a Mets baseball cap. The Consul General wore the cap when throwing the ceremonial first pitch.
Mori said Scherzer apologized to him for the May incident.
"A disaster turns into a blessing in disguise," Mori said, quoting the saying.
"I hope to promote a friendly relationship with the Mets and strengthen Japanese-American exchanges through baseball through this experience," he said.