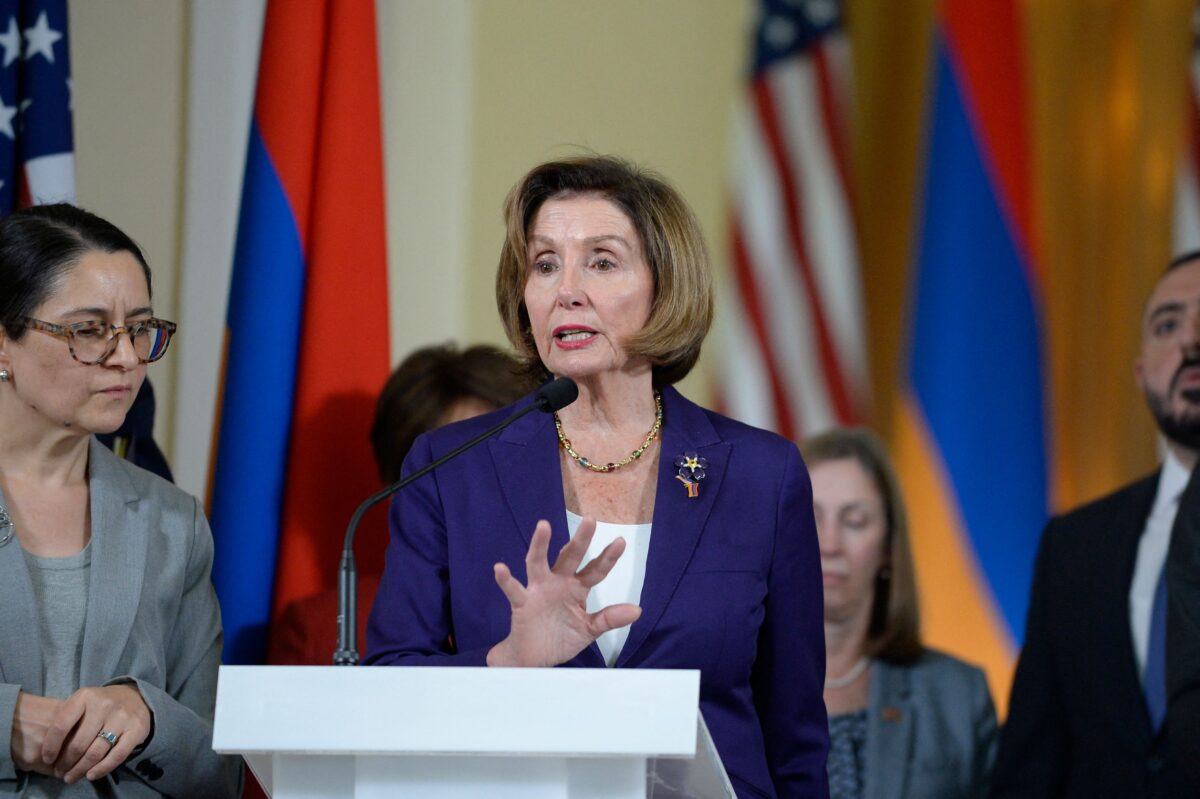 House Speaker Nancy Pelosi (D-California) and a delegation of lawmakers traveled to Armenia amid renewed clashes with neighboring Azerbaijan that have killed more than 200 soldiers, according to US officials.
During a speech in Yerevan, Armenia, Pelosi condemned Azerbaijan's "unlawful and deadly attacks on Armenian territory" which sparked border fighting. "We strongly condemn these attacks," she said alongside Armenian parliament speaker Alen Simonyan.
The two countries agreed to a ceasefire last week that has lasted three days so far. But the fighting, Pelosi claimed, "was instigated by the Azeris and that must be acknowledged."
Pelosi is the highest-ranking US official to visit Armenia in decades and the first to do so since the country gained independence from the Soviet Union in 1991. Azerbaijan was also a Soviet republic before the bloc dissolved.
The US Embassy, ​​which confirmed Pelosi's visit on Saturday, said his trip included a meeting with Armenian Prime Minister Nikol Pashinyan. She was joined by Reps. Frank Pallone (DN.J.), Anna Eshoo (D-California) and Jackie Speier (D-California), according to embassy officials.
Besides her visit to Pashinyan, Pelosi will also participate in a wreath laying ceremony at the Armenian Genocide Memorial and deliver a speech at the Cafesjian Center for the Arts, the embassy said.
A ceasefire came into effect on Wednesday evening after two days of heavy fighting that marked the biggest outbreak of hostilities in nearly two years.
The two ex-Soviet countries are locked in a decades-old conflict over Nagorno-Karabakh, which is part of Azerbaijan but has been under the control of ethnic Armenian forces backed by Armenia since the end of a separatist war. In 1994.
In a six-week war in 2020, Azerbaijan reclaimed large swathes of Nagorno-Karabakh and adjacent territories held by Armenian forces. More than 6,700 people died in the fighting, which ended with a Russian-brokered peace deal. Moscow has deployed around 2,000 troops to the region to serve as peacekeepers.
Following Pelosi's remarks on Sunday, Azeri officials sharply criticized the speaker.
"The unfounded and unjust accusations made by Pelosi against Azerbaijan are unacceptable," the Azerbaijani Foreign Ministry said in a statement, as reported by Reuters. "This is a blow to the efforts to normalize relations between Armenia and Azerbaijan," the ministry added while claiming that Pelosi's comments are "Armenian propaganda."
Meanwhile, Russia sees Armenia – which recently sought support from Moscow – as a regional ally. The Kremlin has also sought friendly relations with Azerbaijan in recent years.
On Friday, Russian President Vladimir Putin told reporters that Russia was able to mediate in the Armenian-Azerbaijani conflict, saying Moscow had enough resources to provide assistance despite the raging conflict in Ukraine.
"Under the influence of Russia, this conflict has been localized. I hope that will continue to be the case," Putin told reporters, Reuters reported.
The Associated Press contributed to this report.