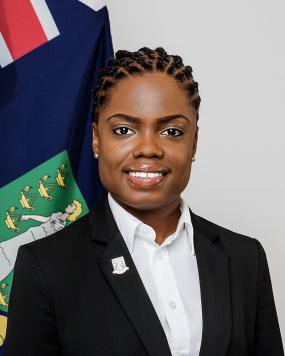 STATEMENT BY THE HONORABLE SHARIE B. DE CASTRO
MINISTER OF EDUCATION, CULTURE, YOUTH AND SPORTS
SIXTH SESSION OF THE FOURTH SESSION OF THE FOURTH VIRGIN ISLANDS ASSEMBLY HOUSE
THURSDAY 21ST JULY 2022
2022 PRIMARY EXIT RESULTS AND SECONDARY DIPLOMA RESULTS
Madam President, thank you for giving me the opportunity to update this honorable House and the territory on the results and the 2022 primary and secondary school graduation ceremonies.
Our teachers and students have continued to show great resilience in the face of the effects of the COVID-19 pandemic. During this academic year, as was the case for the previous two years, teaching and learning took place in a combination of online and face-to-face modalities, as required. For Elmore Stoutt High School, their return to face-to-face classes took place on a staggered schedule from 8:00 a.m. to 12:30 p.m. and from 1:00 p.m. to 4:30 p.m.
There were 330 students from 13 public primary schools and 6 private primary schools in sixth grade this school year. A total of 310 students were promoted to seventh grade and 20 students were transferred to seventh grade where they will be allowed to do remedial work to fill learning gaps. Exit and graduation ceremonies were held from 22n/a june to 3rd July 2022.
Madam Speaker, this year a total of 224 students were enrolled in grade 12 in public secondary schools. A total of 168 students or 75% passed and 56 or 25% failed to meet the graduation requirements. A total of 104 students achieved honor roll status, with 97 honors and 7 honors.
Madam President, I offer my sincere congratulations to all our students and congratulate the school principals and teachers who have contributed to their success this school year. While acknowledging the achievements, we are also aware of the challenges and are committed to addressing them.
This is why the Ministry ensured that secondary school students who did not meet the graduation requirements were given the opportunity to participate in the Summer School. The 5 of Julye, a summer school organized with a total of one hundred and eighty-nine students enrolled from grades 10 to 12, from all the public secondary schools in the territory. Students who failed a subject and/or the Exit Proficiency Examination (EPE) were allowed to attend the summer school. Over the past two weeks, sixteen (16) teachers have provided intense intervention in selected subjects for these students.
During the summer school program orientation session, strict guidelines for the month-long summer session were shared with students and parents. Parents and students had to sign a contract stipulating attendance and behavioral requirements for students to attend.
Madam President, of the one hundred and eighty-nine (189) students enrolled, twenty-two (22) attend the Bregado Flax Educational Center in Virgin Gorda, fifteen (15) attend the Virgin Islands School of Technical Studies and one hundred fifty-two (152) attend Elmore Stoutt High School.
VISTS and ESHS students attend sessions at the ESHS campus at Pasea Estate. On Virgin Gorda, sessions are held at BFEC Secondary. Three-hour sessions begin daily at 9:00 a.m. and 1:00 p.m. Evaluations for each proposed topic are ongoing.
Madam President, out of the total number of students attending the summer school sessions this year, around seventy students are taking the preparation courses for the Exit Proficiency Examination (EPE). Forty-two of the students mentioned above did not meet the graduation requirements as of June 2022. This summer school initiative gives these students another opportunity to graduate from high school and then move on to the world of work or higher education institutions. They will retake the Exit Proficiency Examination on the 29the July.
As we approach the next school year, a comprehensive review of curriculum and assessment policies, which will include the promotion and retention policy, will begin to verify effectiveness and quality assurance since the work.
Madam President, in the last two and a half months since he assumed the post of Minister of Education, the Ministry has worked tirelessly to reform in order to ensure that a solid foundation is in place based on policy and legislation. Without policy or legislation to guide the
direction of what is happening in our country, we then become "leaves flying in the wind" subject to the "whims and fancies" of all that is placed before us.
Therefore, over the next few months, the ministry will focus on policy development. Policies in place will be reviewed and revised as necessary and expanded as necessary.
Madam Speaker, at this time, I must take this opportunity to recognize and appreciate the efforts of ministry staff, principals, teachers, counselors and parents for their diligence in preparing our students for enrollment in the next phase.
Madam President, as I conclude this statement, I would like to pay tribute to the educators who are retiring from service at the end of this school year. They are:
| | | |
| --- | --- | --- |
| Names | School | years of service |
| Mrs. Jacqueline Nibbs | Eslyn Henley Richiez Learning Center | 30 years |
| Ms. Shanda Chalwell Walters | Elmore Stoutt High School | 25 years |
| Mrs. Jacinth Stoutt | Elmore Stoutt High School | 34 years old |
| Ms Koval Cruickshank | Alexandrina Maduro Elementary School | 39 years old |
| Mrs. Maria Smith Callwood | Alexandrina Maduro Elementary School | 26 years |
| Ms Monique Penn | Willard Wheatley Elementary School | 25 years |
| Mrs. Ruthlyn Gregg | Francis Lettsome Primary School | 28 years old |
| Ms. Marsha Flemming | IEP Coordinator | 25 years |
| Dr Thomas Alexander | School psychologist | 38 years old |
| Mr. Allen Hodge | Education Officer for TVET | 34 years old |
| Mrs Ereia Smith | Speech and language pathologist | 28 years old |
I must publicly thank these educators for their invaluable contribution to the education system of the Virgin Islands and express my best wishes for a happy retirement.
Thank you Madam President.