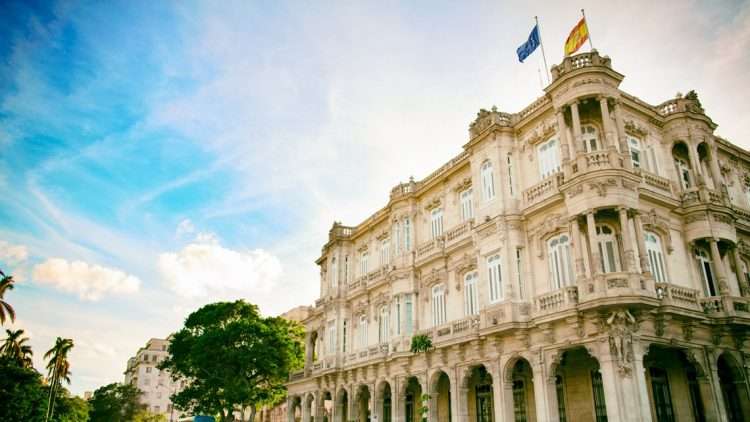 The Consulate of Spain in Cuba announced this Friday that from July 1 it will begin to charge its consular services in euros, only in cash and with the exact amount.
Services such as making passports will cost 30 euros ($31.40 at the current exchange rate), visas 80 euros ($83.73), legalizations 10 euros ($10.47), among others, such as said the Consulate on its Twitter account.
Update of consular tasks from July 1, 2022:
Only in EUROS
Alone and EFFICIENT
Sólo se podrá cobrar el IMPORTE EXACTO
​
Passports​€30
​Visa​€80
​Legalizations€10
​Compulsas€10
More info 👉https://t.co/zCtZAoNmTU pic.twitter.com/1O6Fe0McXC

— ConsEspLaHabana (@ConsEspLaHabana) June 17, 2022
The Spanish diplomatic representation did not explain the reason for this decision, which comes a week after several Latin American embassies in Cuba announced the suspension of their consular services following a directive from the Central Bank of Cuba (BCC).
BCC Instruction 1/2022 establishes that they can invoice their consular services "in foreign currency or in Cuban pesos (CUP)", as they establish themselves.
But this measure does not allow them to exchange in international currencies the income from consular procedures invoiced in Cuban pesos. UPC cannot be converted to other countries.
Embassies and consulates that decide to invoice consular services in CUP will only be able to "deposit the funds in an account in this currency", warns the instruction, which puts an end to a hitherto routine practice.
The BCC also indicated that "from the Cuban peso accounts of embassies and consulates" it will not be possible to make "transfers to accounts in freely convertible currency, nor payments abroad".
The freely convertible currency is a virtual currency valid only in Cuba and is a benchmark for currencies. It has been in use in the country since late 2019 and is valid in a network of stores selling groceries, household appliances and other items.
The decision of the BCC has been critically received by some embassies because it prevents them from transferring to their country in foreign currency the money obtained in CUP as they have been doing so far as consular collection for the services that they provide.
The measure is linked, according to various sources, to the difference between the official rate – one dollar is equal to 24 pesos – and the exchange rate in the informal market where the USD currently costs around 100 CUP.
Meanwhile, the Euro is officially traded at 27 pesos and in the informal market at 115 CUP.
The exchange of national currencies for foreign currencies at the official rate and the exit of these currencies from the country have been disadvantageous for Cuba, these sources added.
ECE